Here is some fantastic work from students in Ms Doherty's 6th Class. They're keeping very busy at home!
Artwork by Clara, 6th Class.  The piece is inspired by 'Deep Space Sparkle' by Joan Miró.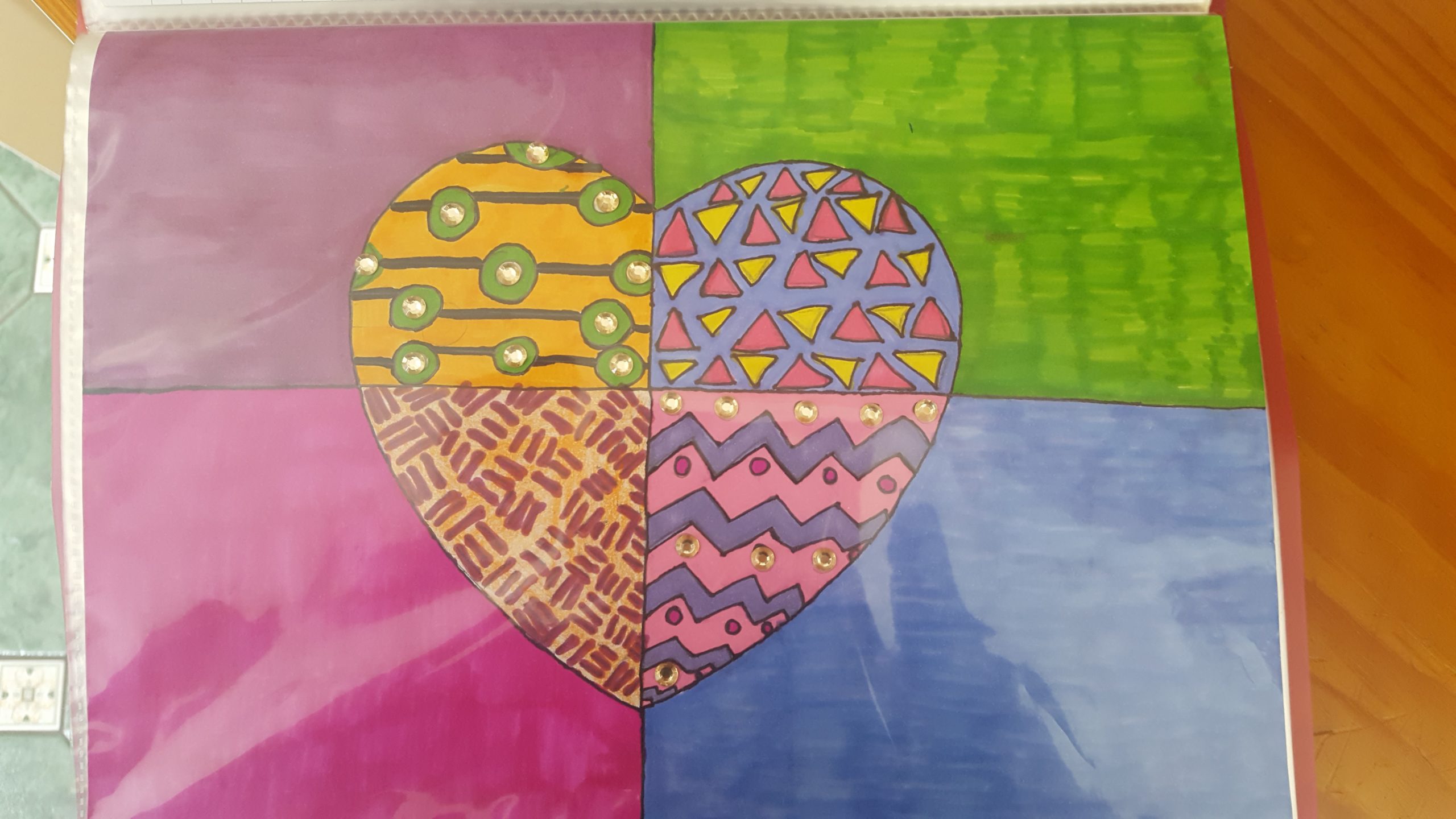 'Art in the Environment'
by Lucy , 6th Class
I have seen the Polestar many times while driving around town.  The Polestar was designed and made by Locky Morris. It is inspired by the history of trading.  It is shaped as a boat, because boats were commonly used to transport goods in the past, but it also has a train track theme going on, to remember that these two forms of transport were very important to the town's development. The Polestar was placed on the Port Bridge Roundabout, as this was where trade goods arrived by boat and were then transported by rail and road to surrounding areas. The Polestar project cost around €100,000 to build and was funded by Donegal County Council.
In Letterkenny, we also have 'The Rabble Children', 'The Workers' and more.
If I were an artist who was asked to create a piece of art for the town, I would create a large tree sculpture that is interactive on one side, carved into the trunk. There would be a bench, where anyone could sit down at any time, and beside the bench, there would be a water tap with drinkable water so that you could always have a drink when you are thirsty. On the other side there would be built-in boardgames, like chess, draughts, snakes and ladders and scrabble, all with magnetic pieces so that they wouldn't fall off. The tree would look just like a normal tree, with a thick layer of fake leaves so that there is plenty of shelter.
A famous sculptor:
David Annand is a Scottish sculptor who designed and created St. Maeldoid's Pig near Castleblayney.   He was born in 1948 and he is now 72 years old. He went to the Duncan of Jordanstone College of Art in the city of Dundee. He then taught for 14 years. In 1988, Annand decided to work at his sculptures full-time. His work can be seen in many places, like England, Scotland, Wales and Ireland. Many of these works are in public places and are inspired by the local history. He has made many pieces in his time and he is a member of the Royal British Society of Sculptors. He now lives and works in Kilmany in the Scottish county of Fife. David has also won many awards in his time as a sculptor.
The sculpture at Lurgybrack School is named the 'Tree of Light'. It was designed and made by John O'Connor from Waterford.   A tree sculpture was chosen for the front of our school, as it resembles the concept of growth, just like how our school has grown so much in the last years.
'Banksy' by Lucy
My favourite piece of art by Banksy is the Unwelcome intervention. This piece of art can be found on the West Bank barrier wall. I also drew this painting for my art because it reminds me of how even now when the weather is good we still can't go to the beach or anywhere outside of 5km to enjoy it.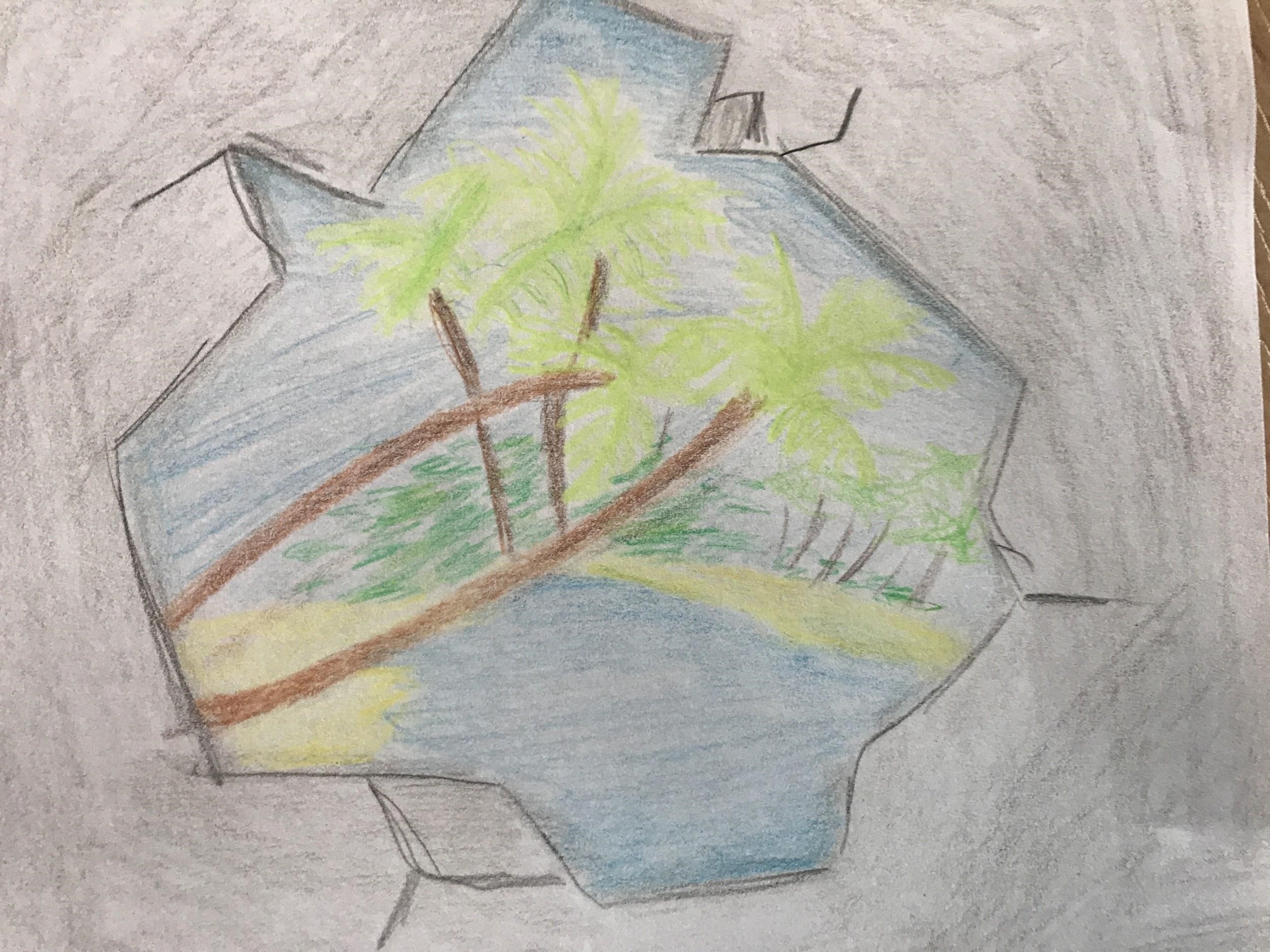 I think that Bansky definitely should not have painted the elephant!
Though I do think that on some occasions his artwork could upset people. But the majority of his work is great art.
Haiku Poetry
'Buzzing', a Haiku Poem By Alex.
​I have a garden,​
It is planted for the bees,​
They buzz by daily. ​
____________________________
A Haiku poem by Leah.
Trees are there to climb,
Don't fall or you might get hurt,
Safer on the ground!
___________________________
2 Haiku poems by Cillian.
Outside my window,
Cows big and small like to graze
They appear like Steak.
______________________________
We can't go outside,
Stuck inside to slow the spread,
Covid-19 stinks.
Bees project by Éabha